Lemon House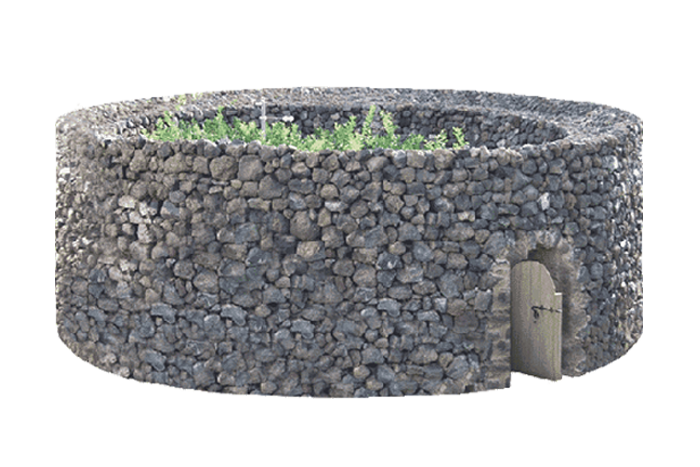 Info
Lemon trees are sensitive to the wind, they can only survive and thrive in windless locations. The inhabitants of many Mediterranean islands built circular stone walls around lemon trees in order to protect them. These 'Lemon Houses' were sometimes quite expansive, with tall walls and a door protecting their entrance. Lemon houses are found in many Cycladic islands and in Sicily.
The Lemon Tree house is a residence that learns from this vernacular agricultural typology. A lemon tree is planted at the center of the residence. Three concentric stone walls protect the tree along with the exterior living spaces that surround it. Simple mechanical apparati provide further protection from the sun and the wind, creating a cyclical domestic experience that adopts the perspective of a compass: protected from the elements while enjoying the panoramic views that surround it.
The communal spaces surround the central lemon tree on a single plane at the top level of the residence, while the bedrooms follow the downward slope of the landscape inscribed in the exterior concentric stone wall.
Credits
Concept:
Alison Katri, Christina Vasilopoulou, Carlos Loperena, Alexandros Vaitsos
Design:
Alison Katri, Christina Vasilopoulou, Dionysis Dikefalos, Vasilis Vasileiadis, Carlos Loperena, Alexandros Vaitsos
Construction Documents:
Dionisis Dikefalos, Vasilis Vasiliadis, Christina Vasilopoulou, Eva Tsouni, Carlos Loperena, Alexandros Vaitsos
Structural engineer:
ERISMA
Mechanical engineer:
TEKEM
Interior Designer:
Cubiculum
Site Management:
George Loulakis, Charalambos Papamatheakis
You are visiting the Beta Version of our site.
Only the first nine projects have been published.
Our site will be launched on February 15th 2020.
Visit our site then to see more.
We would appreciate your feedback at mailbox@deca.gr.