Periscope Device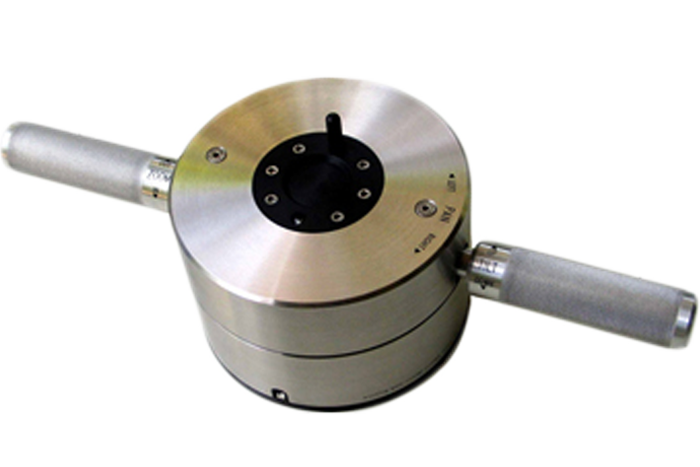 Info
The periscope was conceived as an urban surveillance apparatus. The idea behind this device has a rather straightforward conceptual model. The Periscope essentially contains a number of spring-mounted micro-switches, a printed circuit board and an antenna. The micro-switches act as the recipients of external input and are triggered as soon as the Hotel guest performs a valid move (which can be interpreted in a Pan/Tilt/Zoom fashion as explained in the usage description somewhere…).
Upon activation of one or more micro-switches, a combined signal is be produced by the internal circuitry that is transmitted through the antenna via a carefully selected radio frequency, toward the video-control-network-server (VCNS) unit. The VCNS, in turn, accepts the broadcast by a wireless control interface (WCI). The WCI is directly attached to the VCNS via cable.
On the VCNS, a proprietary custom software program (which we shall henceforth refer to as the CamTroll ) resides. The CamTroll operates as a translator between the Periscope and the cameras. It's function is to interpret the signals in the air , decide which ones are intended for the cameras, perform the appropriate decoding required and instruct the cameras to relocate to their new positions. As a follow-up the CamTroll query the cameras to make sure that the last command has been carried out. All actions taken by the CamTroll are recorded in its embedded logger system so that any unforeseen issues can be traced back.
As an additional functionality (time permitting) the CamTroll will, following a random period of inactivity, store a snapshot of the current main camera view for the loco lobster from outer space to work on.
Credits
Design Team:
Alexandros Vaitsos, Carlos Loperena, Kyle Gudsell, Maria Doxa, Marina Stasinopoulou, Elena Zabeli, Zeta Tsermou, Ifigenia Mari
Industrial Designer:
Giorgos Papadimitropoulos
3D Animation:
Pavlos Germidis
You are visiting the Beta Version of our this project